Increase your editorial efficiency by up to 90%
Acrolinx's Enterprise Editorial Management system scales compliant content while managing the risks of generative AI
Discover how
Trusted by the leaders
Helping enterprises in the areas that matter most
Editorial Efficiency
"We reduced our content review cycle time from 3 weeks to 2 days expediting product releases by 42%."

– $5.2 B Med Device Manufacturer
Risk & Compliance
"We can now comply with Consumer Duty content regulations saving us over $3 million in fines."

– $14 B Finserve Firm
Brand Experience
"We reduced our customer support call center volume by 30% saving $1.2 million in support costs."

– $100B Insurance Company
Editorial management for your entire enterprise
Only Acrolinx keeps your content aligned with your style and compliance guidelines – no matter who creates it or where it originates. Acrolinx offers live editorial assistance, automation to govern your content across many different repositories, and detailed analytics about your content's quality and performance. With a generative AI infrastructure anchored in Azure AI, Acrolinx guarantees scale, future-readiness, and uncompromising security.
Enterprise Guidance
Editorial Assistance
Automated Content Governance
Analytics & Curation
Best-In-Class LLM Infrastructure
Digitize your complex style guide
Easily accessible enterprise writing guidance for both writers who create and editors who review content. Powered by secure generative AI, writers and editors can generate great content. Intelligent corrective suggestions improve clarity and compliance. With dozens of writing integrations editors are boosting editorial efficiency by 50%+ while working directly in the tools they love.
The editor at your fingertips
Acrolinx offers the most comprehensive capability to configure complex enterprise style guides for unlimited target audiences. Built on highly configurable rules and private LLMs tuned on your company knowledge and style.
Complete editorial coverage on all content
While your writers and editors produce on-brand, compliant content with the help of Acrolinx, our Editorial Management system goes further by providing you with full enterprise Content Governance. Acrolinx automatically scores content against your enterprise style guide in repositories, workflows, files systems, and on websites – at scale. Only Acrolinx offers extensive content coverage through Governance Integrations and Developer Tools.
Find your best content and scale it
Acrolinx offers the most complete capability set to analyze, report, and curate content based on quality and performance. Visualize content quality and performance, and curate collections of your best content at scale to tune private LLMs for knowledge and style.
Working with the best in generative technologies
Built on Azure AI's infrastructure, we provide our customers the highest enterprise security and privacy solutions in the industry from Microsoft. With over $13 billion invested in AI technology, Acrolinx customers rest assured their data is kept confidential, is not shared with other models, and designed to integrate with other approved LLMs. This means you're not locked into a vendor's propriety system.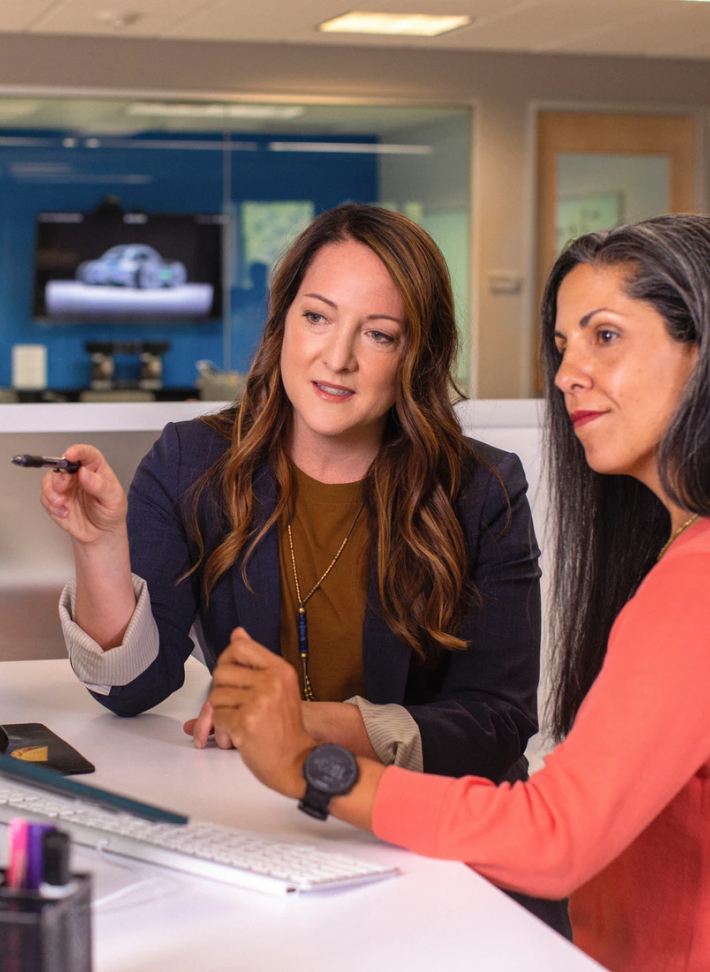 Why enterprises choose Acrolinx
Acrolinx customers see the highest rate of return on investment in the industry. Acrolinx is uniquely positioned to meet your enterprises editorial and governance needs while exceeding strict security and privacy requirements. Our dedicated teams provide the guidance, insights, and services to understand and achieve your enterprise content goals. This is why leading technology, financial services, medical devices, defense, and pharmaceutical companies choose Acrolinx.

Experimenting? Start small, and know that you can extend Acrolinx to your entire organization over time.
Read our story
How Acrolinx gives you the efficiency of generative AI — without the risk
Download eBook
Easy access to the correct corporate language as you write
Keeping enterprise content valuable across its lifespan